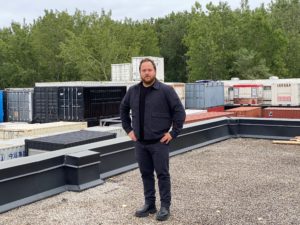 Daniel Kroft Speaks on Climate Change Solutions
Today's economy rests on a foundation of infrastructure and building innovation. Every industry, regardless of size or profession, needs reliable physical structures to further innovation. Accordingly, the custom modular industry has grown exponentially in the last decade, adjusting to the needs and constraints of consumers. However, many of these companies generate environmental waste in the production and implementation of these structures.
While many companies in the industry have taken steps toward achieving sustainability, some are aggressively addressing the issue head-on such as Daniel Kroft, CEO and founder of Giant Containers, who is prioritizing the use of eco-friendly modular and prefabricated containers. Editorial Coordinator Hannah Chew sat down with Daniel Kroft to discuss sustainability in the modern world.
"I approach each job differently because it's no longer enough to just recycle shipping containers for experiential popups. We are expanding by designing prefabricated containers to build modular structures such as offices, retail spaces and affordable housing. The out-of-the-box solutions of the past don't cut it for the here and now of today. We create custom solutions so I can ensure that each project is eco-friendly and my best work," says Kroft.
Kroft's focus on industry-driven solutions to the climate crisis is rare in the business world. Yet, the modular container industry's carbon footprint continues to grow unchecked in a world that prioritizes convenience and efficiency. Many companies do not consider sustainability beneficial to profits. Kroft and Giant Containers take a different stance, which is why they have launched their non-profit 'Giant IDEAS' to partner with York University to develop Canada's first Climate solutions park. This innovative park at the Keele campus features interactive demonstrations, programming and exhibits of various climate solutions. Combining Kroft's own work with creativity and expertise from a number of partners helped set this action-based plan into motion. Since the partnership, Kroft has also engaged with many other initiatives, providing his unique skill set to various education institutes and mentorship programming.
"I am a builder and designer at heart, and I want to be proud of what I create. Putting in the effort to make sure my work is eco-friendly is not optional, it's essential. We all need to do our part to make the industry more sustainable. Climate change is happening right now, and we need to act with urgency, which is why we're excited to partner with York University and utilize shipping containers as a resource for the solutions park project." said Kroft.
Kroft hits on an important call to action, and demonstrates a remarkable standard of personal accountability. All builders and creators, whether industrial or artistic, have the ability to prioritize sustainability in their work. Kroft is correct in noting that the climate crisis is not a mass of statistics in the far future, but a daunting reality that will only worsen without immediate effort around the globe. Most creative and construction industries have a global presence, and individuals must unite to push forward innovation and sustainable practices. Only with a unified effort will real social and environmental change be possible. Artists, designers, and builders alike have the opportunity to be at the forefront of the climate action movement.